Edge Animal Health has a pipeline of programs that will deliver game-changing products to address unmet needs in veterinary medicine.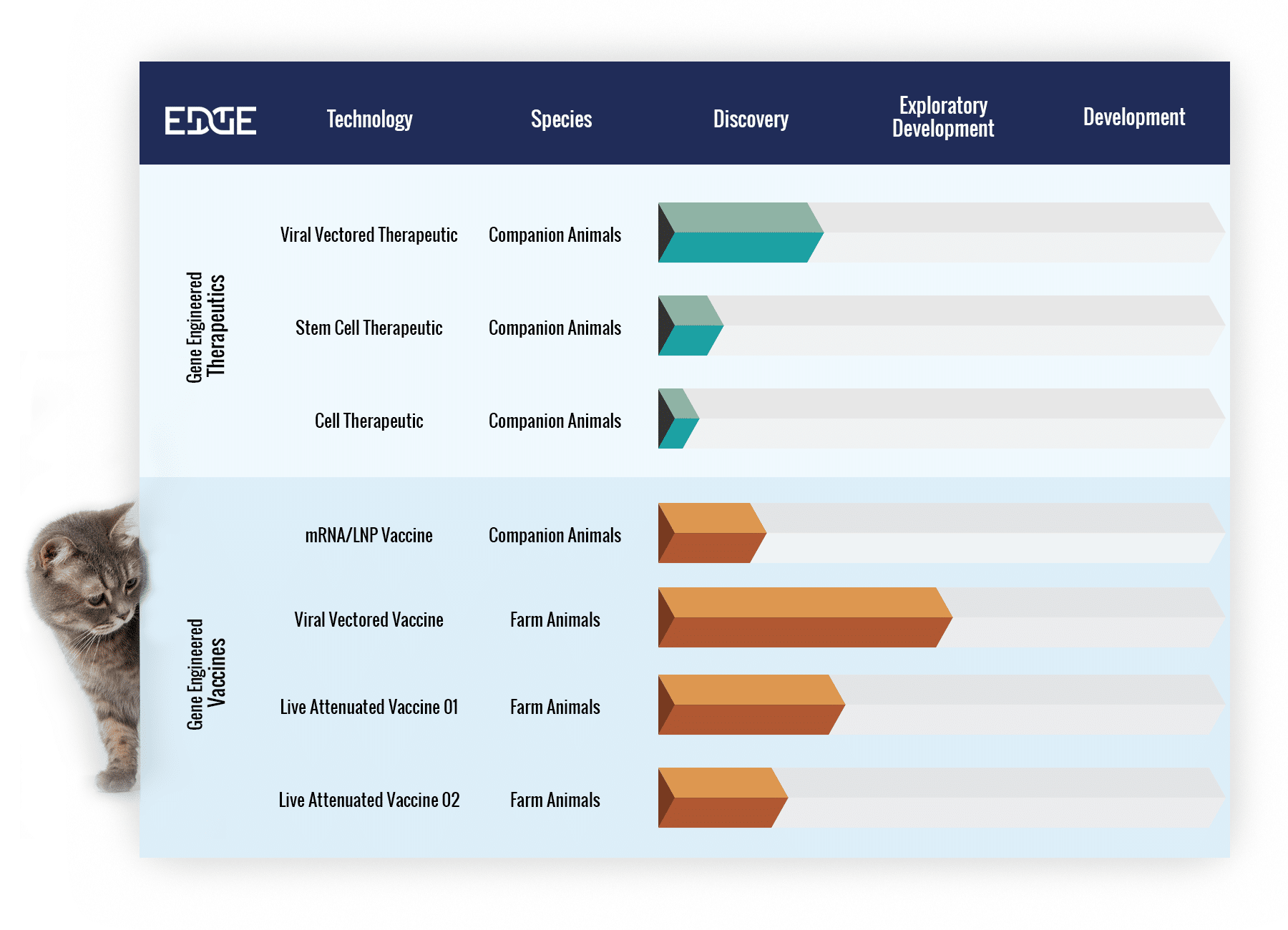 Edge is advancing gene-engineered vaccines to deliver solutions that can improve farm animal health as well as reduce the need for antibiotics. Additionally, Edge is advancing companion animal products in the areas of metabolic and endocrine disease, as well as oncology. The products derived from these programs will provide treatment solutions to diseases where there currently are few options.

Genetically engineered vaccines have had a positive impact on animal health for decades. This field of research continues to rapidly evolve. Genetic techniques that Edge is exploring include molecular attenuation of live vaccines, creating vectored vaccines, as well as subunit and non-replicating vaccines.  
Molecular attenuation of infectious agents by editing their genome improves vaccine safety and stability compared to antiquated attenuation by serial passage.

Live vectored vaccines are created by insertion of key protective antigen(s) from a virulent organism into the genome of a vector organism so that protection is built to both the vector as well as the inserted antigen.  

Non-replicating vaccines are designed so that key protective antigens are inserted into a vector that replicates in tissue culture but only undergoes one round of replication in the host animal.  These vaccines have improved safety qualities and express large amounts of antigens to stimulate a protective immune response.

Gene Engineered Therapeutics
The use of genetic engineering technologies has been advancing rapidly into cell and gene-based products in the clinic, for human health applications, in recent years. Edge is poised to leverage this experience to bring novel therapeutic solutions to animal health.
The gene and cell platforms that Edge is utilizing in its pipeline will be enhanced in functionality using genetic engineering technologies. These enhancements include improved durability in the body, targeted delivery to the tissue of interest and other modifications that have the potential to improve efficacy and safety for these products.